MBCY 300 hr. Trauma-Informed
Yoga & Mindfulness Meditation Teacher Training Certification
This Yoga Alliance RYT-300 hr. is nina be's flexible 3-module trauma-informed yoga + leadership training for entrepreneurs, mental health professionals, caregivers & teachers who are ready to up-level their somatic expertise for modern times.

Get your RYT-500 Yoga Alliance Certification and learn::
How to execute and teach +60 yoga postures with trauma-informed MBCY methodology from the lineage of Ashtanga, Sri Dharma Mittra and Embodyoga
MindBody Centering Yoga with trauma-informed principles
Mindfulness Meditation techniques from direct teachings of Thich Nhat Hanh, The Dali Lama, Pema Chodren, Jack Kornfield, Tara Brach
Yin Yoga techniques
Yoga Nidra scripts
Philosophy of Applied Mindfulness
Developmental Anatomy & somatics for experiencing
Sequencing multi-level classes
Assists and modifications for injury prevention
Breathing techniques
12-Chakra study
Sutra study
Nutrition and wellness

this 3-module offering gives YOU
freedom & flexibility in 2022-2023
you can choose a fall & spring semester
to compliment your Passion Project

What to Expect::

WELCOME...to your RYT-300 MBCY Trauma-Informed Yoga & Mindfulness Meditations Training Certification to focus on transformation for yourself, individuals, groups and the new Earth.
THIS COURSE WILL HELP YOU TO:
Communicate & engage

with your underlying lovingkindness .

Stand up & speak up

from your foundation of noble Truth.

Calm

the mind, body, & emotions

Transmit

ease through your thoughts, words & actions.

Coordinate

&

maintain

agreements of integrity & balance.




Your RYT-300 MBCY Trauma-Informed Yoga & Mindfulness Meditations Training Certification will be offered in 3 Modules; A, B, C.
These modules and courses can be taken in any order.
You can pay as you go or pay for everything within the 300 RYT tuition fee (save $1000).

We will begin in the Fall of 2022 with Module A.


MODULE A: Fall Semester
3 course curriculum
•Transforming Trauma (100 hr.)
begins Sunday, Sept 11th, 2022 // 12 - 8 pm est.

•Ultimate Mindfulness Training (40 hr.)
begins Monday, Sept 12th, 2022 // 6 - 9 est.
•Yin Therapeutics (30 hr.)
begins Thursday, Sept 15th, 2022 // 7 - 9 pm est.
MBCY Transforming Trauma Techniques encompass 8 specific, cutting edge, embodiment theologies that have proven effective for all forms of trauma; from anxiety to depression, stress and panic attacks, PTSD and childhood trauma, chronic back pain, arthritis and insomnia. Upon completion, you will be able to understand how to transform mental, physical and emotional pain . Your completion of this course will earn 100 CEs from Yoga Alliance.
The Ultimate Mindfulness Course is an exploration of classical mindfulness principles for life from nina be's personal experiences with her teachers, Thich Nhat Hanh and Jack Kornfield. the application of mindfulness and meditation have proven to be the most effective way to offer long-lasting peace to anyone, without the negative side effects of medications. Your completion of this course will earn 40 CEs from Yoga Alliance.
Yin Yoga Therapeutics with Expressive Journaling offers explorations in asana, chakra theory, shiatsu and writing as accessible ways to offer educated classes and workshops to mental health for anyone. The beauty of the energetic body, through the sciences of polyvagal theory, the chakras and meridians makes feeling good instantly available. Use your creative skills and meet your present moment with the subtle support it needs. Your completion of this course will earn 30 CEs from Yoga Alliance.

All of these courses are oriented towards 'self practice' so that you can guide anyone from the wisdom of your experience, not just from reading books. With over 150 hrs. of course study, you will have a life-time of clear and potent practices to support transforming trauma in the modern world.


MODULE B: Spring Semester
Self-Realization through Self-Practice

Spring 2023: Jan 15 - April 23
(Online live streaming w/ nina be)

Twice monthly: Sun. 10 - 5 pm est.
Module B is the Self-practice module where you will be held within the powerful foundational practices of the 8-limbs of Hatha Raja Yoga. You will develop skills to teach individuals and groups through the embodied ethics of yoga, 3 levels of physical postures, 8 breathing techniques, and the sutras of meditation. nina be has developed MBCY as a sophisticated confluence of Iyengar, Ashtanga, Dharma Yoga, Buddhist psychology and Embody Yoga, with global wisdom from the contemporary arts and sciences of ballet, jazz, theatre, somatics, chakra theory, vocal arts, Alexander Technique, sacred geometry and ritual. Your completion of this module will earn 60CEs from Yoga Alliance.


MODULE C: Passion Project::
Trauma-Informed Yoga &
Mindfulness Meditation Mentorship
A Living Mentorship with nina be
for Yoga Leadership in Action
•You will be supported to use the core curriculum from Modules A & B to develop your unique approach for your calling in the world.



•Your self-directed work on your Trauma-Informed Passion Project can begin at the start of your first module.
(It is due 90 days after the completion of your last module.)
•This module is designed to help you hold a unique perspective
of focus on your experience of Trauma & Truth.
Your RYT-300 MBCY Trauma-Informed Yoga & Mindfulness Meditations Training 'PASSION PROJECT' (the Self, the Field, Individuals and Groups) is a comprehensive 40 hours of private mentoring for your authentic personalized/professional specialization with MBCY Director, nina be ॐ yoga therapist (c-iayt), ma. mEd. e-ryt500 dharma-800. You will have the opportunity to develop your authentic personalized /professional orientation to your 'calling', as you learn to assess and grow your Self, individuals and groups. This 40 hr. mentoring will begin upon application to the training, so that you can carefully orient towards the details of developing a business, define your personal ethics, receive supervision towards supporting others in your role as a guide, assess power structures involved with equitable leadership and organize your life for a sustainable and enjoyable professional career.

a few words from the founder

nina be is the main instructor in this MBCY 300 hr. MindBody Centering Yoga & Mindfulness Meditation Teacher Training

Receive Your RYT-500 Yoga Alliance Certification
By completing this flexible 3-module, 300 hr. MindBody Centering Yoga and Mindfulness Meditation Teacher Training with nina be, you become eligible for your Yoga Alliance RYT-500 Certification.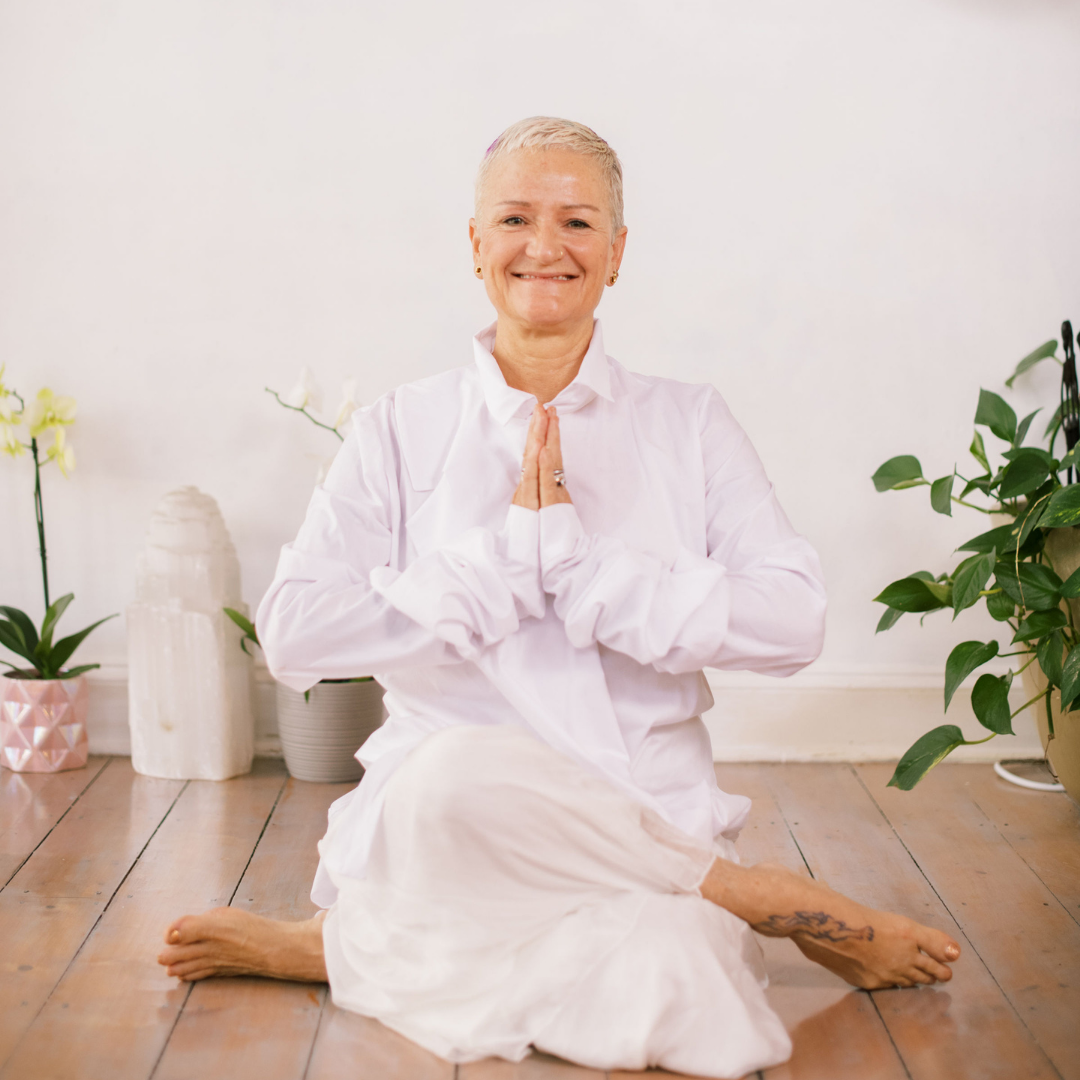 hi, i'm nina be
( C-IAYT, E-RYT-500, MA., MED., NBCC, Dharma-800)


I curated the unique curriculum for the MBCY 300-hour Yoga Teacher Training for THIS moment.

The need for trauma-informed leadership has never been more important, and I am honored to have been researching trauma & wisdom where mindfulness & yoga connect.

All of the teachers trained in the MindBody Centering Yoga (MBCY) method understand how trauma transforms into Wisdom.

By choosing THIS course, you will be specializing in trauma-informed yoga, interfaced with the classical sutra orientation of the Yamas and Niyamas, embodied anatomy, social equity and current research in the non-pathological understanding of the spectrum of trauma.


What to Expect


You will be guided in a process of living transcendence with yoga therapist, nina be (C-IAYT, E-RYT-500, MA., MED., NBCC, Dharma-800); embodied anatomy, lovingkindness Meditation, transforming trauma techniques for times of awakening, the 12 chakra system.
By attending the MBCY RYTT-300 Trauma-Informed Yoga and Mindfulness Meditation Teacher Training, you will be asked to invest in a vegetarian lifestyle, maintain a daily practice and perform SEVA (community service).
Within the MBCY curriculum, you will develop a compassionate presence and skillfulness with relevant guidance as a resource for your authentic path.
By embodying specific skills through your personal research, at the intersections of living ethics and Truth as power, you are welcomed into the MBCY global sangha. Together we continue to spread our work of advocacy for all beings; most especially POC, LGBTQIA, and under-resourced children.

Save $750 and more!
Register for your MBCY RYT-300 Trauma-Informed Yoga Alliance Certification to launch your mastery.
We know you're ready!